Jomsom, Kagbeni, Upper Mustang
Location
Upper Mustang Trek
The Upper Mustang trek brings you into the hidden world of the old Buddhist kingdom of Mustang, also called Lo. Lo used to be part of the Tibetan empire and is therefore closely tied to Tibet in culture, language and geography.
The region isolates from the outside world as it has highly preserved Tibetan culture and unspoiled nature. Mustang lies in the rain shadow of the Dhaulagiri massif creating a ruggedly arid land surrounded by rocks in all kind of colors and impressive formations. This barren landscape is dotted with settlements of white washed houses, barley fields and chhortens festooned with prayer flags which add a splash of color to the landscape.
The trail follows the ancient salt caravan route through which the people of Mustang traded Tibetan salt for grain from the lowlands. The goal of the Upper Mustang trek is the capital of Upper Mustang, Lo Manthang. From the pass Lo La (3950 m) you can see the walled medieval capital in the distance, the white-washed 6-meter tall wall sticking out in sharp contrast to the barren landscape.
This trek to Lo-Manthang will take you through high altitude desert country, you will climbing in and out of the huge sided valley of the Kali Gandaki, getting to have glimpse of the world's deepest gorge which the Kali Gandaki runs through. Adding to that, throughout the region you will be able to see innumerable ancient Buddhist monasteries all your way.
Tour Highlight
Hidden World of the Buddhist Kingdom
Explore the most picturesque places in the country.
Discover the nature gifted sites of Jomson, Kagbeni and Lo Manthang.
Experience serenity, beauty and divine solitude at its zenith.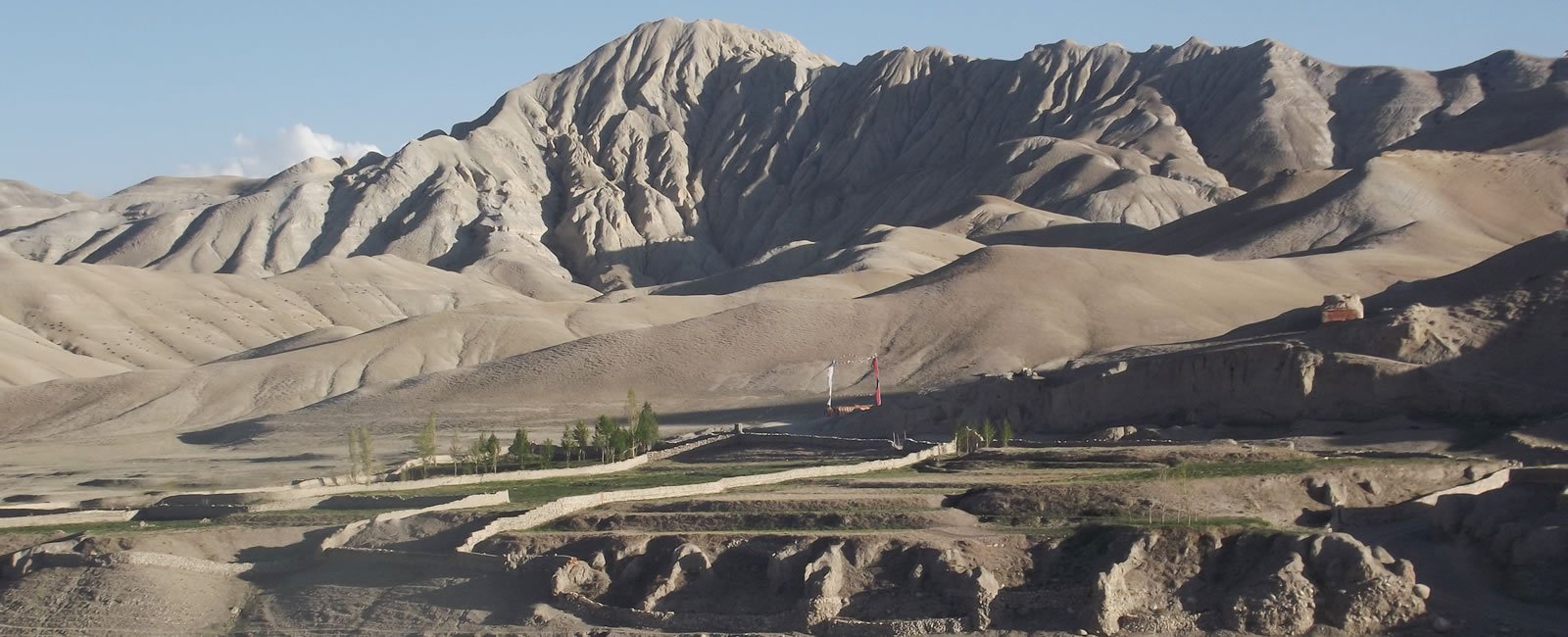 Additional information
| | |
| --- | --- |
| Hotel | 1 Star, 2 Star, 3 Star, 4 Star, 5 Star |
| Available Options | Mountain Flights, Cable Car |
Arrival at Tribhuvan International Airport, Kathmandu
 Upon Arrival at Tribhuwan International Airport, You will be met and greeted with a traditional welcome by TravHill representatives and be transferred to your hotel in Kathmandu. Welcome drink followed by tour briefing. Evening is free to explore as own.
Sightseeing in Kathmandu
After breakfast your tour around Kathmandu will commence where you will be accompanied by a guide of your lingual preference. The tour will include a visit to the following places:
Boudhanath: A major Buddhist stupa located at the north eastern outskirts of Kathmandu.
Pashupatinath: The most revered temple by Hindus in Nepal, the temple carries a significance of mystical proportions and is a site to many important life events of Hindus.
Kathmandu Durbar Square: Durbar Square or the Palace Square is ancient courtyard the then Malla Kings of Kathmandu Valley which is abundant is breathtaking architecture.
Overnight stay at Kathmandu.
Included Meals: Breakfast
Drive or flight from Kathmandu to Pokhara
Pokhara can be reached in around 6 to 7 hours by road depending upon the season, or through flight in less than an hour. Situated in the lap of beautiful snowy mountains Pokhara is a beautiful city with lakes and caves.
Overnight stay at Pokhara.
Included Meals: Breakfast
Flight from Pokhara to Jomsom and Trek to Kagbeni
After breakfast, an early morning flight from Pokhara will take you to Jomsom in just 25 mins. Jomsom is a major village on the Kaligandaki region which used to link the ancient trans-Himalayan salt road to Tibet, it is also the district headquarter of Mustang. A three- hours trek from Jomsom, with Horses on its gradual path on Kaligandaki will take you to Ekley-Bhatti village. From here, an easiest trail will take you to Kagbeni which is a very interesting village. On arrival, after check in at the hotel, in the afternoon you are free to stroll around the village.
Overnight stay at Kagbeni.
Included meals:Breakfast Lunch & Dinner
Kagbeni – Chaile or chusang Trek
We get our permits checked then begin our trek on a trail alongside the Kali Gandaki River. We walk on sand amidst strong winds before ascending on a hill. We reach the Tange Village and admire its narrow alleyways, white-washed houses, barley and buckwheat fields, and apple orchards. We continue our walk and pass another village and cross a river on our way. Next, we walk on a ridge before reaching Chaile Village. Overnight in Chaile or chusang.
Included meals:Breakfast, Lunch & Dinner
Chaile <strong>- </strong>Syanboche, 6-7 hours
Our trek from today will be a little hard compared to what we experienced before. Our walk today involves crossing two passes, Taklam La pass (3,624m) and Dajori La pass (3,735). On our way, we enjoy great views of Tilicho, Yakawa Kang and Damodar Danda and pass by Ramchung Cave. We descend further and reach Samar Village. From here we walk on a trail above the village and reach a ridge. Next, we descend on a steep trail to a stream and continue our trek to Syanboche. Overnight in Syanboche.
Included meals:Breakfast Lunch & Dinner
Syangboche- Ghami Trek
We ascend to the Yamda La pass at 3,850m. On the way, we pass by a few tea houses, chhortens and beautiful villages. We trek through popular forests and barley fields and reach Nyi Pass at 4,010m. From here, we descend to Ghami which is one of the biggest villages in the Lo-manthang region. The village is beautiful with fields surrounding the entire village. Overnight in Ghami.
Included meals:Breakfast Lunch & Dinner
Ghami- Tsarang Trek
Our trek today begins with a descent through a rough and often slippery trail. We then cross a suspension bridge over the Ghami Khola and begin ascending. The pathway is beautiful with Mani walls along the trail. Next, we cross the Tsarang La Pass at 3870m and reach Tsarang village. The village lies atop the Charang Chu canyon with a huge fortress and a red Gompa towards its east. Overnight in Tsarang.
Included meals:Breakfast, Lunch & Dinner
Tsarang- Lo-Manthang
We begin our trek by descending to a canyon and cross a river before beginning our uphill trek to Lo La pass which is at 3950m. From the top of the pass, we can admire the beautiful Lo-Manthang village. From the pass, we descend to Lo Manthang which is a beautiful walled village. From here, the views of the Himalayas including Nilgiri, Tilicho and Annapurna I, Bhrikuti Peak as well as Damodar Kunda (pond) is quite good. Overnight in Lo-Manthang.
Included meals:Breakfast, Lunch & Dinner
Explore Lo-Manthang
Lo Manthang is a walled town of the remote Upper Mustang region of Nepal. We spend the day touring three major Gompas of the town namely Jhampa, Thupchen and Chhoeda. All of these Gompas have undergone expert restoration over the last two decades. We can also trek to Tingkhar which is a beautiful village located north-west of Lo-Mangthang. Overnight in Lo Manthang.
Included meals:Breakfast Lunch & Dinner
Lo-Manthang- Drakmar Trek.
We trek on a different route when returning from Lo-Manthang. Our trail passes through Gyakar village which houses a century old Ghara Gompa with beautiful rock paintings. According to a local legend, anyone who makes a wish at the Ghara Gompa will have it fulfilled. We explore the Ghara Gompa and continue our trek to Drakmar for an overnight stay.
Included meals:Breakfast, Lunch & Dinner
Drakmar- Syangboche Trek
Syangboche- Chhuksang Trek
We begin our trek after breakfast. We walk on the same trail as before going up to Lo Manthang. On the way to Chhuksang, we can enjoy great views of the Himalayas and small villages we pass en route. Overnight in Chhuksang.
Included meals:Breakfast Lunch & Dinner
Chhuksang- Jomsom
Today is the last day of our trek and it is a long one. After trekking for a while, we come to an end of our Mustang trails and join the trails of the Annapurna circuit. We stop for lunch at Kagbeni. After lunch, we continue our trek to Jomsom for an overnight stay.
Included meals:Breakfast Lunch & Dinner
Fly back to Pokhara
We take an early morning flight to Pokhara. The airplane passes through a gorge between Annapurna and Dhaulagiri mountains making the flight itself an amazing experience. After arriving in Pokhara, we can spend the rest of the day in leisure. Overnight in Pokhara.
Included meals:Breakfast
Drive from Pokhara to Kathmandu
After breakfast, we say goodbye to the beautiful northern skyline of Pokhara and drive towards Kathmandu. This will be a journey along river banks with wonderful views of terraced hills and the rural Nepalese lifestyle. After reaching Kathmandu, we take a rest or do some souvenir shopping. To celebrate the successful completion of our journey, we will have a farewell dinner in the evening. Overnight in Kathmandu.
Included meals:Breakfast & Dinner
Final Departure
Our Upper Mustang Trek in Nepal comes to an end today! A representative from TravHill Dot Com will take to the airport approximately three hours before the scheduled flight. On our flight back home, you take away this amazing memories of our Lo Manthang trip and Nepal.
Included meals:Breakfast
Cost Includes
3-star hotel accommodation in Kathmandu and Pokhara with breakfast
Tea house accommodation during the trek
All meals (breakfast, lunch and dinner) during the trek
Welcome and farewell dinners
All ground transportation on a comfortable private vehicle as per the itinerary
Domestic flights (Pokhara- Jomsom- Pokhara)
Guided city tour in Kathmandu by private vehicle
Entrance fees for sightseeing/monument visits as per the itinerary
An experienced, English-speaking and government-licensed trek leader and assistant trek leader
Porter service
Staff costs including their salary, insurance, equipment, domestic airfare, food and accommodation
Down jacket and sleeping bag  (to be returned after trip completion)
Himalayan Glacier's trekking bag/duffel bag, t-shirt and trekking map are yours to take
All necessary paperwork and trekking permits (National Park Permit, TIMS)
Medical kit (carried by your trek leader)
All government and local taxes
Cost Excludes
Nepalese visa fee
Excess baggage charge(s)
Extra night accommodation in Kathmandu and Pokhara because of early arrival, late departure, early return from mountain (due to any reason) than the scheduled itinerary
Lunch and evening meals in Kathmandu and Pokhara (and also in the case of early return from the mountain than the scheduled itinerary)
International flights
Travel and rescue insurance
Personal expenses (phone calls, internet, laundry, bar bills, battery recharge, extra porters, bottled or boiled water, shower, etc.)
Your safety is of paramount concern while traveling with TravHill Dot Com. Please note that your leader has the authority to cancel any part of the itinerary if it is deemed necessary due to safety concerns. Every effort will be made to keep to the above itinerary; however, since this adventure entails traveling in remote mountainous regions, we cannot guarantee that we will not deviate from it. Weather conditions, health condition of a group member, unexpected natural disasters, etc., can all contribute to changes in the itinerary. The leader will try to ensure that the trip runs according to plan, but please be prepared to be flexible if required.