Kagbeni, Lomanthang, Muktinath
Location
Upper Mustang Biking
Upper Mustang Biking is truly an awe-inspiring adventure and a phenomenal experience that you'll never forget. Upper Mustang is all about desert-like topography. The dusty trails to Mustang has off road riding sections comprising bright sunshine blue skies during the day that will offer you more thrills and happiness.
Mountain Biking in Upper Mustang– The Hidden Valley of Nepal and riding in the valley is most adventurous and popular cycling destinations in Nepal. It's not just about the challenging ascents and endless single track descents, it's also about the journey of discovery of the nomadic horse culture, breathtaking scenery and friendly heart-warming people that inhabit the region.
Tour Highlight
The popular and adventurous ride of discovering the hidden valley of Upper Mustang
Breath- taking scenery and friendly heart-warming people
Tour major UNESCO heritage sites including Pashupatinath, Swyambhunath and Boudhanath stupa
Spiritual immersion into the grandeur of the Tibetan Buddhism
Stunning Landscapes with High Mountain Passes to cross
Panoramic view of mountain ranges during a blissful trip.

If you love both culture and mountain biking, a particularly good time to go is in May to accord with the Tiji Festival.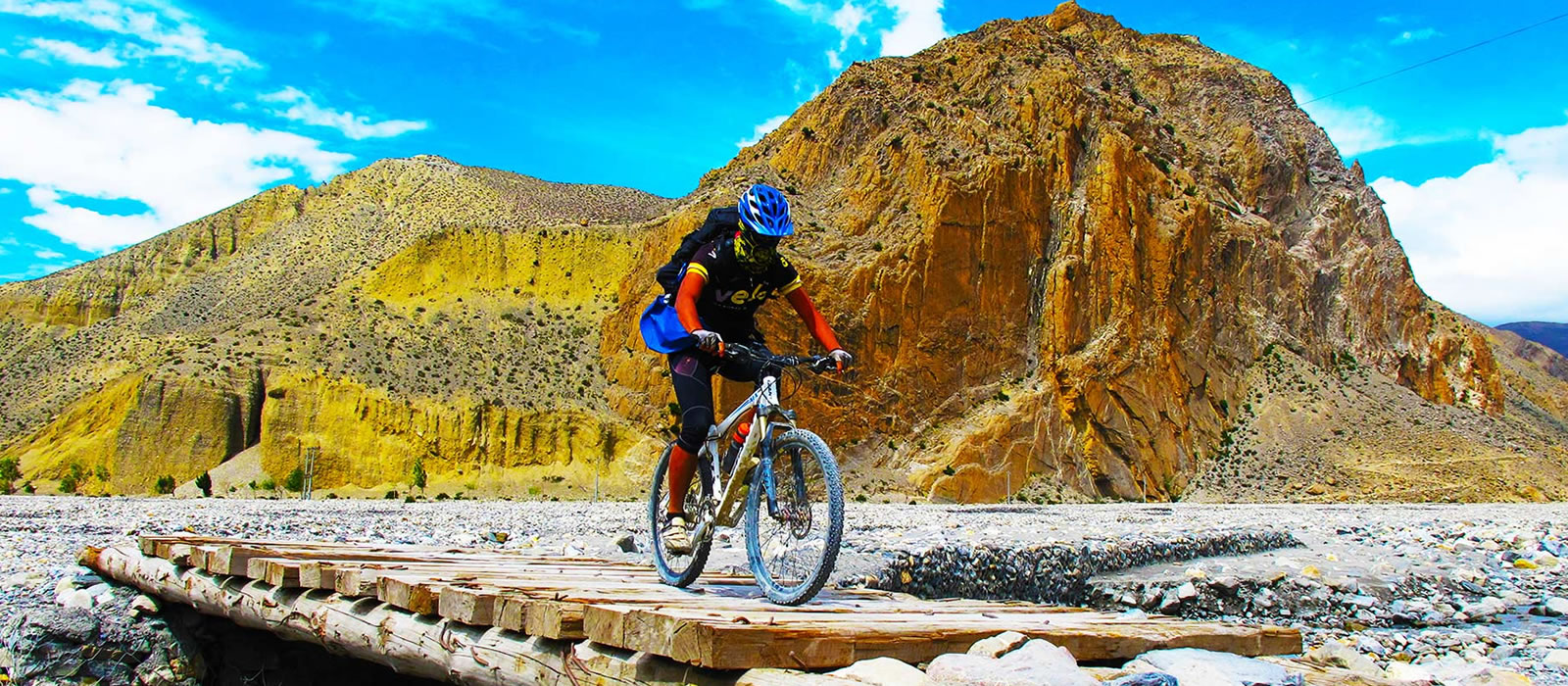 Additional information
| | |
| --- | --- |
| Hotel | 1 Star, 2 Star, 3 Star, 4 Star, 5 Star |
| Available Options | Mountain Flights, Cable Car |
Kathmandu Airport Arrival (1345 meters)
 Upon Arrival at Tribhuwan International Airport, You will be met and greeted with a traditional welcome by TravHill representatives and be transferred to your hotel in Kathmandu. Welcome drink followed by tour briefing. Evening is free to explore as own.
own. 
Pre-trip meeting and Kathmandu Sightseeing
We have breakfast at the hotel in the early morning around 8 am. Then, we will brief shortly about the Kathmandu sightseeing.
We will provide you a private vehicle and an expert guide who will take you to visit Kathmandu city. You will visit three UNESCO listed World Heritage Sites, i.e., Pashupatinath Temples, Boudhanath and Kathmandu Durbar Square. Overnight at Hotel.
Drive from Kathmandu to Pokhara (820m)
After an early morning breakfast at Hotel, we will head towards Pokhara from Kathmandu via Luxurious tourist bus. Pokhara is 200 kilometers far west from Kathmandu, and we will move there around 6-7 hrs. We will stay overnight at Hotel.
Pokhara is the beautiful valley set on the banks of the Phewa Lake.  It is also known for its all magnificent views of Annapurna, Machapuchare (state of fish tail) in the north – Dhaulagiri in the west, Lamjung Himal and Manaslu in the east. Overnight at Hotel in Pokhara
Fly to Jomsom (2,700m) and ride to Kagbeni (2,900m)
We will wake up early in the morning to catch the first flight to Jomsom. The flight from Pokhara to Jomsom is known as dramatic fly in between the two 8000 meters Dhaulagiri and Annapurna I which is called the deepest gorse of the world. Once we land the Mustang at Jomsom then assemble our bikes, have breakfast on the lap of Mount Nilgiri ride along the Kaligandaki riverbed. We will stay at Kagbeni in a local guest house.
Biking time: 2. to 3 hours
Distance: 10 to 15 Km Approx
Ride from Kagbeni to Chele (3050m)
Today is the day; we enter into the forbidden land of Upper Mustang which is the Kingdom of Lo. As we leave Kagbeni behind showing our permit 500$ into the land of amazement. We will ride along the Kaligandaki River valley. We will stop to take Lunch at Chhusang. After the Lunch our ride continue again on the river bank. We will cross the river then take a climb to reach the Chaile. We will see the caves, monasteries and amazing views of River valley and Mountain.
Biking time: 3.5 to 4 hours
Distance: 18 Km Approx

Ride from Chele- Syangboche
As our days are getting better and better because we are heading to North. The climb will be hard but the sceneries and landscapes will make you smile even on the hard trail. You might need to push in some part if it gets to technical climb. We will have lunch in Sammar. It's our biggest day as we will have to cross 4 passes which is called via Taklam la (3624m) Dajori la (3735m) and Bhena la (3860) Yamda la (3860). It's a big day but the super nice day of our trip.
Biking time: 4.5 to 5.5 hours
Distance: 20 Km Approx
Ride from Syangboche- Dhakmar
Our ride starts after the breakfast in these fabulous places in the earth. We will have a small climb Syangboche La (3850m) at the first then we will ride downhill to Gilling. We will be awarded by the view of Dhaulagiri, Nilgiri and Annapurna and Mustang valley. We will again pass the biggest pass of the day called via Nyi la (4010m) then Ghemi la (3765m). We will enjoy the downhill after the passes. We will have lunch on along the way in a tea houses. We will stay in Dhakmar.
Biking time: 4.5 to 5 hours
Distance: 19 Km Approx
Ride from Dhakmar- Lomanthang
Our ride will start in the morning after the breakfast in our guest house. Today ride is more interesting as we head to the King Lo's civilization where we will have opportunities to see ages old Monasteries and Gumba, library of the Buddhism at Charang village where we will stop for the lunch. In the Charang villages we also can see the paintings and Mandala. We will leave the Charang Behind and move forward to our destination the Lomanthang. Our trail will be smoother than the previous ride, once our ride hit the windy pass the view of the Tibetan plateau, Himalayas and the gorgeous view of the Lo-Manthang will reward us. After the pass we will hit the downhill trail across the plain into the walled city of Lomanthang where we will stay in a guest house tonight. We will also have optional trail to ride from Ghar Gumba to Lo-Manthang Via Mui la (4170m) Marang La (4230m) we need to push on some parts of these passes. After Marang La pass we will ride all the way downhill to Lo-Manthang.
Biking time: 3.5 to 5 hours
Distance: 22 Km Approx
Ride day at Lo-Manthang
Today is the day of our Mountain biking adventure holiday, we are here where we dreamed for. you will have opportunity to indulge yourself to this age's old walled city that you can see so many things and special to observe around. You will be amazed by the centuries old Gumbas, four-story Kings Palace of the King of Mustang. We can see on the way to Choser the people are inhabited in caves not only that that caves itself is a museum. There are so many caves and monasteries that will reveal the culture, nature and architectures of ancestors of Tibetan influence people and their practices. Observing upper Mustang will make us feel being in a very ancient town and life is still untouched by the modernization. Either walk, bike or horse ride can be use a means of wondering around on our rest day.
Rest from Lo- Manthang- Yara
Today is the day we are leaving our destination and heading back to our Journey. However it's another great ride ahead on the province of King Lo. We are heading to the Yara and Dhigaon today which is only handful of people visit in this region. We will ride all the way to near Charang then cross the river ride all the way to Charang till the Sungda Choorten then we will cross the bridge then ride toward the Yara. Today ride will be not so hard along the river and villages with amazing view of the plateau. We will stay here in Yara village tonight in a guest house.
Biking time: 4 to 5 Hours
Distance: 17 Km Approx
Ride from Yara to Tangye
Our rides will start as usual in the morning after the breakfast. We will head to Tangye villages; we will ride through two passes (3878m) which is not that high still nice and uphill. In this day be ready to push and carry your bike. Our ride will be ups and down along the barren terrain along with awe inspiring views around. We will cross Dechhyang stream which is originated from the sacred pond of Damordar Kunda which is very popular among locals as a sacred pilgrimage where we will find fossils of marine which is considered as a God we also called Saligram. We will have lunch on the way, we will again ride uphill once we reach on the top where one of the nice playground after this we will reach Tangye village. We will have opportunities to see authentic villages and unique monasteries.
Biking time: 4 to 5 hours
Distance: 18 Km Approx
Ride from Tangye to Chusang
Our ride start after the breakfast, we have another good day to go on our dream holiday. Leaving the Tangye village behind we will cross bridge the we will ride along the river bed then ride and push to a pass then we will reach place called Paha which means a shelter house. We will have a rest and lunch then we will continue our pace. We will also go through 4218 m pass, which will reward us by offering the best views of the Himalayas then we will ride superb nice and flowy downhill all the way to Chhusang which you have earned by the climbs. We will stay overnight in Chhusang village.
Biking time: 4. to 5. Hours
Distance: 26 Km Approx
Ride from Chusang to Muktinath
We stayed at lower alleviation comparatively with other nights. Our lungs is strong today and if our group wish to do another pass we will push and ride to Muktinath via Gyu la(4077m) pass and if our participant would like to take easy ride along the river then we will ride to Kagbeni then ride to Muktinath. We can decide together and enjoy the final day of ride in the Kingdom of Lo. Today we leave the Upper Mustang behind and will enjoy our ride on lower Mustang series. We will stay in culturally, socially and religiously famous and precious place Muktinath which is believed that once you reach in this place you will be free from all the sin you knowing or unknowingly did in your life.
Biking time: 5. to 6. Hours
Distance: 25 Km Approx
Ride from Muktinath- Kalopani
We will visit the Muktinath temple and monastery. The combination of earth-fire-water which is the significant logic and belief behind the Muktinath being so precious among Hindu and Buddhist people from all over the word. It might not be that precious for us in the religious point of view but what we can see the energy you will insist here is amazing that you will feel. After visiting this sacred place our ride is going to be one of the sacred ride mountains biking via Lupra valley which is known as one of the best single trails Mustang has to offer. No words can describe the beauty of Lupra valley and its trails you should go and ride. Once we finish the Lupra then we will ride through pine forest and villages, riverbed, lakes and suspension bridges.
Biking time: 5. to 6. Hours
Distance: 52 Km Approx
Ride from Kalopani to Pokhara
We are so excited today as we will be riding through the deepest gorse in the world, not only that our ride is going to be special because of the diversity of trails and topography. We will ride on dirt road with optional single track as per your wish and technical skills. Your ride will hit from pine forest, foothills, Midhills and subtropical trails. We will stop at Hot spring place called Tatopani locally for a lunch then ride down to Beni, where our vehicle will be waiting us to take to Pokhara.
Biking time: 5. to 6. Hours
Biking time: Hours
Distance: 65 Km Approx
Fly back to Kathmandu
After Breakfast, drop off to Domestic Airport to fly back to Kathmandu. Transfer to Hotel in Kathmandu. In the evening, farewell dinner is given to all from Comany's side. Overnight at Hotel.
Final Departure
 After Breakfast – free time till departure –  A representative from TravHill Dot Com will transfer to Airport for onward destination with sweet memories of Nepal. We will drop you to Kathmandu Airport 3 hours before your flight time.
Cost Includes
All land transport in private vehicle including airport transfers & Support Vehicle
3 star hotels in Kathmandu and Pokhara with daily breakfast as per itinerary
All accommodation in best available tea house while biking in the Annapurna Region
Full Boards meals during biking at Annapurna (except in Kathmandu & Pokhara)
Professional Mountain Bike Guide
All permits and entry fees
Domestic flight from Pokhara to Jomsom
TIMS and Permit (Special permit $500 and ACAP permit and TIMS $60)
Mountain bike and gears (please ask specification after letting us your bike size)
 An experienced English speaking Mountain Bike Guide
Porters for carrying your bags during the Jomsom Trip
Welcome dinner and traditional Dance
Cost Excludes:
Visa fee to Nepal
Flight to and from Nepal
Domestic flights Ktm to Pkr/ and Pokhara to Kathmandu.
Alcoholic drinks
Dual suspension bike(350 Euros extra for the whole trip)
Beverage/soft drinks and mineral water in mountains
Travel, activity, medical and emergency evacuation insurance
Tipping for guides, porters and supporting staff'
Any Extra Activities not mentioned in cost inclusion section