Jomsom, Kaligandaki, Kathmandu, Muktinath, Pokhara
Location
Peddle And Paddle Kaligandaki
Peddle And Paddle Kaligandaki is one of the most adventurous trips of Nepal. One can get double adventures of Mountain biking and Rafting in the single package. The tour offers you unique experience, travel from the upper reaches of the Kaligandaki river down into the lush subtropical area of Nepal.
One will experience the pure adventure as you fly into the heart of the Annapurna region via a flight from Pokhara to Jomsom. Look out the window; you will too close to the mountains. We ride towards up to the valley; holy temple Muktinath before biking on the way down the Kaligandaki valley in two days of downhill riding. Finally, take you to the river itself for three great days of rafting. The trip is exotic journey is awesome.
Tour Highlight
Double Adventures of Mountain Biking & Rafting in single package
Explore the small villages and hidden trail around Mustang area.
Tour major Temple: Muktinath.
Major attraction of the tour: Rafting in Kaligandaki
Panoramic view of mountain ranges during a blissful trip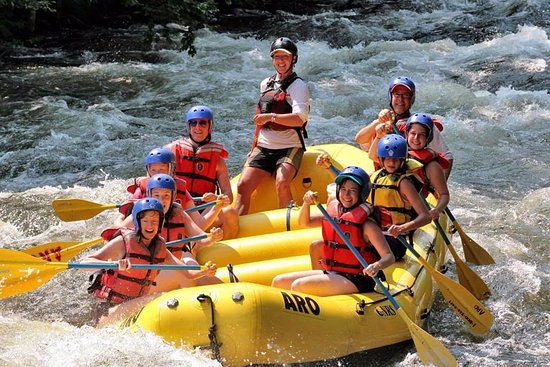 Additional information
| | |
| --- | --- |
| Hotel | 1 Star, 2 Star, 3 Star, 4 Star, 5 Star |
| Available Options | Mountain Flights, Cable Car |
Kathmandu Airport Arrival (1345 meters)
 Upon Arrival at Tribhuwan International Airport, You will be met and greeted with a traditional welcome by TravHill representatives and be transferred to your hotel in Kathmandu. Welcome drink followed by tour briefing. Evening is free to explore as own.
Back Roads and Trails of Kathmandu
Overnight at Hotel.
You'll have breakfast at a hotel early in the morning around 7 am. Then, you will go with us in warm-up ride exploring a portion of the best trails in the Kathmandu Valley; test your bikes and gear to ensure everything is prepared for the adventure ahead.
In 3 to 4 hours of riding, we will cover around 40km at a consistent pace exploring the remote parts of the valley, single tracks and touring at some temples and come back to Thamel for lunch. Then, check your bikes and shop necessary things for the trip. Overnight at Hotel.
Drive to Pokhara
Overnight at Pokhara.
After an early morning breakfast at Hotel, we will head towards Pokhara from Kathmandu via Luxurious tourist bus. We'll cross the beautiful Trishuli river on the way.
After around 7 hours of drive, we will reach Pokhara Valley. You can explore the tranquil lakeside and nightlife of Pokhara.
Fly to Jomsom (2,700m), amass the bikes, and ride to Kagbeni, 14 km
Overnight at Kagbeni.
Tomorrow, we will catch a glimpse of mountains in the early morning. Then, we bag packs our gears to begin adventurous journey ahead. We fly to Jomsom from Pokhara airport. We experience breathtaking views of the snow-capped mountains.
After 22 minutes, we will land at Jomsom airport. We'll take breakfast at nearby Hotel in Jomsom and then loads the bikes for the upcoming ride. Finally, we head towards Kagbeni Village.
We follow easy trail to reach there. After riding around 14 km, we arrive at Kagbeni village. We have free time to save energy for tomorrow's journey there. We'll stay overnight at Hotel.
Ride from Kagbeni to Muktinath, 18 km
Overnight at Muktinath (3760m).
We wake up early morning to see beautiful sunrise from Kagbeni. Then, we have breakfast at Hotel. After this, we start riding uphill Muktinath. We warm up our legs and start biking leaving behind beautiful Kagbeni village.Our trail follows the north side of the George and climbs up on a dusty jeep street towards Thorong La Pass. We'll take lunch and explore monasteries around there.
We have to final push up for short time to reach Muktinath. We'll arrive there around afternoon and release our muscles for tomorrow. We visit holy Muktinath temple there. Muktinath pilgrimage, an eternal place, for both Hindus and Buddhists. One can see magnificent sceneries of various mountains from there. We'll stay overnight at Hotel.
Ride from Muktinath to Tukuche, 32 km (2560 m)
Overnight at Tukuche.
Today, we will ride downhill Tukuche. We'll follow fun jeep streets with the mostly downhill gradient! Today's ride is a bit challenging than yesterday. Be calm under this section and enjoy the views on the way.
After few hours, we end today's ride at Tukuche village. It is an ancient village on the riverside. You can explore the Thakali culture and cobbled lens there. You'll enjoy Thakali food on dinner, stay overnight at Hotel.
Ride from Tukcuhe- Tatopani, 36 km (1190m)
Overnight at Tatopani.
Today we'll ride towards Tatopani; local hot spring where one can enjoy a hot shower in a natural pond. We'll follow pine forests and small villages to reach there. Next, to the river, there are magnificent views of the snow-covered peaks. We'll take lunch at Lush waterfalls Rukse Chaahara. Then, we will speed up our ride and follow downhills.
We cross plunges, rocky sections, and bumps on the way which you'll love. After moving at Tatopani, you can enjoy a hot shower and release your muscles and free time rest of the day. We'll stay overnight at Hotel.
Ride from Tatopani- Maldhunga & Rafting
Overnight at Tent.
Today, we ride towards Muldhunga and raft few hours from there. After an early morning breakfast at Tatopani, we'll begin today's ride. We follow jeep track, flat for the most part but a few up and down hills. The valley opens up near to Beni and we pass the river for the last time to meet the main highway.
In Maldhunga, we'll take lunch and meet our rafting team. Once we finish lunch, our guides share us some safety and security tips about rafting in Kaligandaki river. Rafting is quite extreme than other forms of adventure.
Finally, we begin next level of experience from there. The first rapid of the day is easy and next one is semi-hard and another one is hard and maddest of the trip, followed by rafters' sound. We'll spend the evening on a sandy beach just below a village. You have a campfire, driftwood permitting and a good meal. We'll stay overnight at tented camp there.
Rafting and Overnight at Tent
Today we raft for a whole day. One can be exotic and peaceful by hearing sounds of the river. Waking up to such a peaceful area is an amazing experience for you. Once you crawl out of tour tent, hotel's staff are ready to serve you hot tea and coffee.
We will have 30 minutes to check alas our bag packs and have breakfast. We have an action-packed rapids day and unplanned swims. We'll take lunch on a sandy beach which gives us all time to rest and play in shallow water before reaching to our nighttime camping place. We'll spend tonight at a tented camp on a sandy beach.
Rafting and drive to Pokhara
Overnight at Pokhara.
Today we'll enjoy rafting one last time on this adventurous trip. We have a beautiful morning of playing in some waves on the river and gentle paddle between the placid waters before the dam. We have a great time to play games, kayaking or swimming.
At about 9 am we will reach our take-out point nearby Seti Beni. Then, we'll return to Pokhara via bus. We arrive in Lakeside in the afternoon and take a hot shower just before happy hour.
We share tales of our incredible biking and rafting adventure. We'll enjoy the night life of Pokhara and stay Overnight at Hotel.
Rest & Explore day at Pokhara
Overnight at Pokhara Hotel.
Pokhara is the beautiful valley set on the banks of the Phewa Lake.  It is also known for its all magnificent views of Annapurna, Machapuchare (state of fishtail) in the north – Dhaulagiri in the west, Lamjung Himal and Manaslu in the east. Pokhara is the one of the chill out city of Nepal.
You can stroll around the shops or perhaps some adventure you may like, half day rafting trip, paragliding or short hikes to hill station are other option to fill in your day. We'll stay overnight at Hotel.
Return to Kathmandu
Overnight at Kathmandu Hotel.
Today, we'll back to Kathmandu via flight. After having lunch, we'll fly to Kathmandu. Check into the hotel and have a free time for shopping or exploring Kathmandu for the rest of the day.
You'll have a farewell dinner at tonight with a good meal and cultural performance. You may extend your Nepal tour by going Everest Base Camp, Khaptad Trek, Upper- Dolpo Trek and several traveling places around the nation
Final Departure from Nepal
 After Breakfast – free time till departure –  A representative from TravHill Dot Com will transfer to Airport for onward destination with sweet memories of Nepal. We will drop you to Kathmandu Airport 3 hours before your flight time.
Cost Includes
All land transport in private vehicle including airport transfers
3 star hotels in Kathmandu and Pokhara with daily breakfast as per itinerary
All accommodation in best available teahouse while biking
All meals as per itinerary
Professional Mountain Bike Guide
Mountain Bike
Rafting Guides, Safety Kayakers, all rafting and camping equipment
All permits and entry fees
Domestic flight from Pokhara to Jomsom and Pokhara to Kathmandu
Porters for carrying your bags during the biking
Welcome dinner and traditional Dance
Cost Excludes
Drinks, snacks and other personal expenses
Sleeping Bags
Personal Travel and Evacuation Insurance (Compulsory)
Mountain Bikes
Extra Activities other than mentioned in cost inclusion section