Hilsa, Kathmandu, Mansarovar, Nepalgunj, Simikot
Location
Divine Kailash- Mansarovar Yatra
Kailash Mansovar is a scared Himalaya mountain suited in Tibet. Kailash Mansarovar Yatra offers rigorous overland driving, trekking, and camping, passing the remote and wild western Tibet. Popularly known as Kailash Mansarovar Yatra, this tour requires at least four weeks of physical endurance to perform the circumlocution while following this regimen. The visit to Kailash Mountain and Mansarovar Lake is an essential part of your overall journey to Mount Kailash. Trekking through this long path is steep and physically taxing. Kailash Mansarovar Jatra can be the life changing epiphany to anyone. Bathing in Mansarovar and drinking its water is believed by Hindus cleanses all sins. A journey beyond all your images can be done with the help of Divine Kailash-Mansarovar Yatra. 
Mount Kailash is considered holy by Hindus, Buddhists, and Jains. In ancient texts, it is referred to as the center of the world. So hundreds of pilgrims gather at the mount Kailash and carry their ritual ceremony.There are two options by road throughout the trip Overland Tour or the helicopter tour where you will travel by air in Nepal side and by road in Tibet side. It's an easier and faster way to reach the holy mount Kailash by Divine Kailash- Mansarovar Yatra. After arriving to western city of Nepal, Nepalgunj and transfer to lodge then next day fly to the village called Simikot. And will take the helicopter flight from Simikot to Hilsa. Tibet is nearby Hilsa and entering Tibet private jeep will take you to mansovar.
Get Glimpsess of  blissful mountains during the flight to simikot depending upon weather.
Buzzing around Taklakot
Experience the majestic view of Mansarovar Lake.
Trekking to Dolma La Pass
Exploring Mt. Kailash while Prikrama.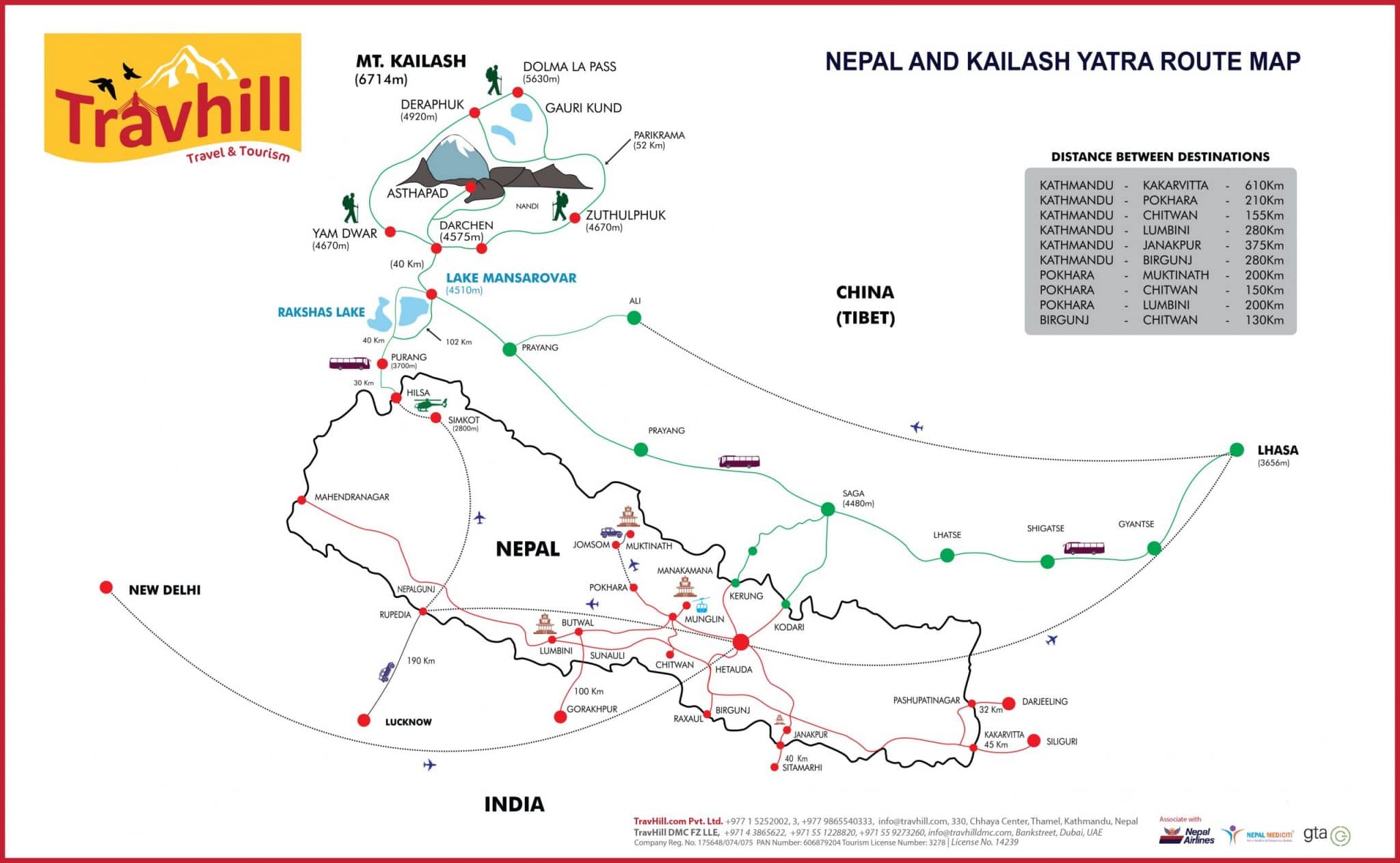 IMPORTANT INFORMATION ABOUT KAILASH YATARA
Please carry at least INR 50,000 for extra expenses such as extra nights stay at hotel/guest house due to any reasons. Any extra cost incurred thereof shall be borne by the clients on the spot. Please keep in mind that Mt. Kailash Yatra is not like an enjoyable holiday tour, therefore you need be prepared to face hardship & unpredictable situation.
Note: Above rates are valid for 2020 Yatra and any increase in USD will applicable if the rates drastically go up. Also, if the visa has to issue urgent basis, the cost would be extra, since all package cost is based on normal days visa processing.
BASIC INFORMATION ABOUT KAILASH YATARA
Start Point: Kathamandu
End Point: Kathmandu
Max Altitude: 5630m
Altitude of Kailash Peak: 6714m
Best time to visit: May to September
Temperature: Max 20°C to Min –10°C
Altitude of Manasarovar Taal: 4550m
Parikrama of Kailash: 52 Km
Parikrama by walk:42 Km in three days
Distance From Ktm: 1050 KM (one way)
Parikrama Of Manasarovar Taal: 102 Km
Climate: Unpredictable
Required Documents for Kailash Yatra Booking
Passport valid for at least 6 months
Age Bar – 10-70 years old.
Scan Passport Xerox copy should be reached TravHill Head office, Kathmandu prior 30 Days.
Original passport should be reached 10 days prior to the Yatra at Delhi Office
Mode of Payments
25% of the total cost should be paid for booking the yatra
50% of the total cost should reach TravHill.Com account before 15 days of departure date by telex transfer with passport of client.
And full payment should be made before 10 Days of departure date to Kailash Mansarovar Yatra
Tour Cancellation Policy
All notice of cancellation must be sent to our office in written
Verbal cancellations will not be entertained
30 days before yatra departure date, 10% of total yatra cost will be deducted
15 days before yatra departure date, 25% of total trip cost will be deducted
There will be no refund at all if you cancel the yatra less than 10 days before the departure date
TERMS & CONDITIONS
These booking Terms and conditions contain important information. It is essential that you read them carefully and understand them as they apply to all services provided by TravHill.Com Pvt. Ltd.
Travel Insurance
We advise you to purchase comprehensive travel insurance package against medical, nature calamity, helicopter evacuation, personal accident and cancelation etc. we do not have any insurance policies we sell but it is available from India base insurance company.
Changes By You 
If you wish to change your tour, you must inform our staff at least 30 days before the tour. Any extra charge or loss incurred due to such change will be borne by you.
Cancellation By The Company
We may be obliged to cancel your trip by reasons like border closed, permit not issued or cancelled by the government, war, riots, civil disturbances, strikes, natural disasters, terrorist activities or threat of such and closure of airport etc. Under such circumstance, we will advise you as soon as possible if we can offer you an alternative trip of comparable standard or make a refund of the money paid to us after deducting the expenses that was spent to make the bookings of the flights, visas, permits, hotels and vehicle booking. A clear bill of the expenses will be provided to you so that you will be able to claim the insurance. However, we can be under no other liability to you in such cases. Sometimes Chinese government personnel will refuse to give you entry even if you have permit if they think you are not eligible based on their criteria. Please do not start your journey until you get confirmation of permit.
Refund
No refund will be made to any tour member in-case of incomplete Yatra due to what so ever reasons.
Privacy
Travhill.com Pvt. Ltd. is committed to protecting the privacy and confidentiality of personal information.
Changes To These Terms And Conditions
TravHill.Com Pvt. Ltd. has the authority and the right to at any time it sees fit to change or modify all or any part of these terms and conditions.
Age Factor
Please note that Kailash permit will not be issued for the person who is above 70 years old
IMPORTANT PRE-DEPARTURE INFORMATION
Clothing
Casual wears and comfortable walking shoes are the rule of Tibet. Be sure to bring warm clothing as nights and early mornings can be quite chilly to cold. Indian Pilgrims are advised strictly not to wear Sari during this yatra. Bring all the film, medicine, cosmetics, personal toilet items etc. that you will need from home as these are difficult if not impossible to obtain on the way. A small first aid kit is also a good idea. Also quite useful is a route map, to know where you are going and have been each day.
What To Take
Winter wear: Gore-Tex material, though expensive, is highly recommended. Down jacket, raincoat or windbreakers, thermal under wears, Jackets, warm trousers & woolen shirts (cotton will also do), warm sweaters, woolen gloves, sun hat, comfortable shoes, light leather boots in case of snow, woolen balaclava ('monkey cap') & scarf/dust mask to protect your eyes & nose from dust.
Bring With You
You may bring the snacks for along the way such as chocolates, dry fruits, toffees, glucose, namkeen etc. Strong water bottle & water purifying tablets. Personal medical kit and Diamox tablet (for high altitude). Sun glasses (to protect your eyes from UV, which is especially strong in high altitudes).
Sun block or sun screen lotion, wet tissues (Fresh-ones are excellent to wipe off the dust), clothes-line/clips, needle & thread, body spray (handy for smelly boots/feet and for a round of spray in the toilet tent!), toilet paper, torch & spare batteries, daypack (small shoulder bag), Camera & films, Binocular.
Health
This is one of the toughest high altitude road journeys on earth. You Must be physically fit – no two ways about that. Generally patients with asthma & heart problems have a problem acclimatizing to high altitudes. In your interests it is essential you should be examined by your doctor to know about your health condition and your ability to cope up with the rigors of high altitude travel for days in 'no road' conditions, extreme cold, dust, trekking to an altitude of 19500ft during the Parikrama, etc.
Altitude Sickness
As you are traveling over high terrain, you are likely to experience symptoms and discomfort of altitude sickness (headache, loss of appetite, nausea, exhaustion, sleeplessness, breathlessness etc.) until your body adjusts to the elevation. This can take a couple of days or more depending on an individual. For this reason alone, we have made it mandatory to stay 2 nights at Mansarovar (4550M) moving on to the higher altitudes.
Drink plenty of water, be calm, and do not exercise. Do not drink alcohol or smoke prior to and during the tour. We also recommend you carry a strip of diamox tablets. We provide Gamow bag (a special equipment to prevent sickness from high altitude) on this tour.
Currency
The unit of Chinese currency is Yuan. USD 1 = 6.48 Yuan &1 Yuan = INR 10.28 approx. (as of December 2015). Money can be exchanged at Bank of China at Zhangmu or from the locals at Zhangmu or Kodari. Exchange all your remaining Yuan at the end of the trip at Zhangmu before re-entering Nepal .
Risks & Liability
TravHill.Com Pvt.Ltd. And its associates will put every effort to make your journey smooth and pleasant. However, all the tours in Tibet are conduct strictly under the rules & regulation of Tibet Tourism Bureau (TTB). Therefore, TravHill.Com Pvt. Ltd. and its counterpart shall not be responsible for any change and alteration in the program due to unavoidable circumstances such as landslide, road blockage, flood, snow, political unrest, and cancellation of flight, delay arrival, sickness or accidents. Any extra cost incurred thereof shall be borne by the clients on the spot.
NEPAL HEAD OFFICE
2nd floor, 330, Chhaya Center, Thamel, Kathmandu, Nepal
Tel +977- 01- 5252002, 5252003
Whatsapp: +977- 9865540333, 98512383900
Email- [email protected], Website: TravHill.com
DUBAI OFFICE
Atrim Center, Bank Street, Bur Dubai, Dubai, UAE
Tel +971 4 3865622,
Whatsapp: +971- 55 1228820, 0559273260
Email- [email protected], Website: TravHilldmc.com
Additional information
| | |
| --- | --- |
| Hotel | 1 Star, 2 Star, 3 Star, 4 Star, 5 Star |
| Available Options | Mountain Flights, Cable Car |
Arrival Kathmandu (1300m)
Arrival Kathmandu: Our Representative picks up and transfers to Hotel.
Yatra Briefing: Before dinner a Short briefing about Kailash Manasarovar Yatra
Meals: Dinner at Hotel Hotels: 3 Star – Taleju Boutique or Similar
Kathmandu Sightseeing – Nepalgunj (Fly 150m)
After breakfast 9 Am: Full day Sightseeing Pasupatinath Temple, Bouddhanath, Jalanarayan Temple (sleeping Vishnu), take lunch evening fly to Nepalgunj (1 Hrs)
Meals: Breakfast, Lunch & Dinner.
Hotel: 3 Star – Cygnet Krishna or Similar
Nepalgunj – Simikot (2800m)
After breakfast fly to Simikot (50 Min, 16 Seater Airline), evening Visit Shiva Temple.
Meals: Breakfast, Lunch & Dinner)Hotels: Humla Resort or Similar
Simikot – Hilsa – Purang (3700m)
After breakfast fly to Hilsa by 6 Seater Helicopter (20 Min, 20 Kg weight limit) wait for the others member to arrive at Hilsa (since it is a group visa and everyone have to enter Tibet side in one group) complete immigration & custom formalities in Nepal and China side then continue drive to Purang (30 Km, 1 Hrs, on the way we have to pass up to 2 Checkpoints where checking might take upto 1 hour each check post ). Meals: Breakfast, Lunch & Dinner
Hotel: Hotel Himalayan or Similar
Acclimatization - Rest Day (3900m)<strong> </strong>
All day is free for acclimatization; today you can buy Jar to collect Kailash jal.
Meals: Breakfast, Packed Lunch & Dinner)
Hotels: Hotel Himalayan or Similar
Purang – Manasarovar (4550m)
After breakfast drive to Rakshas Tal (70 km, 1.5 hrs) on the way you will have to pass 1 check point. After reaching Rakshas Tal you will see Gurla Mandhata Parvat & first view of Mt. Kailash south face and Manasarovar Lake, 25 Km drive we reach Manasarovar then start Parikrma of Manasarovar Lake by Vehicle (102 Km, 3 Hrs) and Overnight at the Shore of the Lake.
Meals: Breakfast, Packed Lunch & Dinner)
Hotels: Manasarovar Guest House or Similar
Manasarovar – Darchen – Dirapuk (4860m, First Day of Kora –Trek to Dirapuk)
After breakfast short drive to Tarboche, Visit Yama Dwar. This is starting point of Kora. We will trek to Dirapuk which is 12 km trek (6/7 Hrs) crossing west face of Mt. Kailash, You will visit North face of Mt. Kailash and touching the feet of Mt. Kailash (Charan Sparsh).
Meals: Breakfast, Packed Lunch & Dinner
Hotels: Sisapangma Guest House or Similar
Trek Dirapuk – Zutalpuk (4600M)
After breakfast trek to Dolma –La Pass and proceed to Zutalphuk (22 Km, 9/10 hrs Trek). This is the most difficult journey throughout  the the yatra since you have to trek up to (5630m). From decent to Gaurikund and trek to Zutulpuk following river.
Meals: Breakfast, Packed Lunch & Dinner)
Hotel: Sisapangma Guest House or Similar
Note: If you are not doing Parikrma, then you will be trek back to Darchen till Parikrma finish.
Trek Zutalpuk – (Drive) Hilsa (3700m)
After breakfast short trek ( 8 Km, 2 Hrs) and reach to the point where our coach will be waiting and we will drive to Darchen and merge with other member  who were waiting and drive to Hilsa. (also we will take helicopter to Simikot based on situation)
Meals: Breakfast, Lunch & Dinner
Hotel : Hotel Snow Lion or Similar
Fly to Hilsa – Simikot- Nepalgunj - Kathmandu
After breakfast fly to Simikot (20 Mins) by Helicopter, Fly from Simikot to Nepalgunj (50 mins) and fly to Kathmandu (or proceed to lucknow by Road).
Meals: Breakfast, Lunch & Dinner)
Hotel : Hotel Taleju Boutique or Similar
Departure transfer to Kathmandu Airport
After breakfast we will provide certificate of Kailash Manasarovar Yatra by TravHill.com. Free till departure, later drop to Airport for final departure.
Meals: Breakfast only
Cost Includes
3 Nights accommodation at Kathmandu on 3 Star Hotel
1 Night accommodation at Nepalgunj
2 Night accommodation at Simikot and Hilsa
5 Nights Accommodation in Tibet Sharing basis at Guest House
Kathmandu-Nepalgunj-Kathmandu flight ticket (Yeti or Buddha Airline)
Nepalgunj-Simikot-Nepalgunj flight ticket (16 seater, Tara Air or Summit Air)
Simikot-Hilsa-Simikot by Helicopter (5/6 person can carry at a time)
All necessary arrival/departure transfer in Nepalgunj
Kathmandu sightseeing by AC Vehicle
Tibet Group Permit and Visa fees
Kathmandu Sightseeing by AC Vehicle
All meals vegetarian basis (Breakfast, Lunch & Dinner)
All transportation in Tibet by AC Luxury Coach
English/Hindi speaking Tibetan and Nepali Guide
Supporting truck to carry equipment
All necessary trekking and travel permit
Medical kit bag & Oxygen cylinders of emergency
Supporting staff (Cooks, Sherpas & Helpers)
Kailash Manasarovar Yatra certificate
Humla region restricted area permit and royalties
One Duffle bag, One Back pack
Down Jacket refundable
All applicable taxes & service charges
Cost Excludes
International air tickets
Travel insurance, Rescuse  and evacuation services
Nepal Entry Visa fees for NRI
Horse and Porter during Parikrma
Tips for Guide, Porter, driver and personal expenses
Extra Hotel charges in Kathmandu if early return from Tibet
Any additional cost due to natural calamities and unforeseen circumstances
Extra accommodation charge in Kathmandu,Nepalgunj,Simikot and Hilsa if flight is cancelled due to bad weather or delay in permit/Visa from Tibet (please make sure your flight ticket is flexible to change dates)
Visa splitting charge and extra transportation cost, if returning early from Yatra